Please note that the website name vbs4all.org redirects to this page.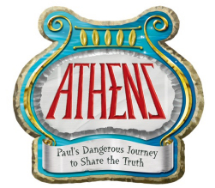 VACATION BIBLE SCHOOL
Contact: Liz Sampson at 210-386-5999 or ejdjcs@att.net
Dorcas Sampson at 210-260-5212 or tante_d@att.net
St. Matthew's Episcopal Church and the Episcopal Church of the Resurrection are glad to announce another exciting year of VBS—this year it will be in the Athens Agora at St Matthew's, 810 Kitty Hawk, Universal City, Texas from July 8-12, 2019. This 5-morning experience of reliving Bible time occupations and relationships acquaints children with their Christian heritage. They come to know Christianity as a living relationship with God as they relive Paul's Dangerous Journey to Share the Truth.
The children participate in a memorable Athens marketplace (agora) and "live" in small families (oikoi). They will grow in their relationship with God as they learn Greek customs from Bible times. Through fun crafts, teamwork-building games, catchy songs, Bible-times snacks, and visits with Paul, the children learn that Bible stories are about real people.
We will be having Closing Ceremony and an Open House on Friday evening at 6:30 p.m. This is a great opportunity for the youngsters to share their experiences with family and friends.

Athens will run from 8:30 - 11:30 a.m. each day. There is no cost for attendance and registration is open to children from 4 years old through the completion of 4th grade. Due to the unique settings and experiences, we must insist all children be potty trained.
---
Parents, please sign up your children to participate by filling out a registration form. If your children are older, we would love for them to be helpers. In fact, we welcome and need volunteers of all ages.
There are sign-up sheets in the narthex of both churches.
This year we especially need Family Leaders and Youth Helpers. We can always use strong muscles for the Set-Up and Tear-Down work.
FAMILY LEADERS will lead a group of 6 to 10 participants. Script, supplies and costumes will be provided. It is important that Family Leaders are available every morning all week. Training and costumes will be provided.
YOUTH, age 12 and older, are needed to assist the Family Leaders. The young people will be put to work, but they will have fun and learn too. Young people who volunteer to help can use this week for community service hours—please annotate sign-up sheet.
MERCHANTS can be a one-day position or the whole week. If you have a special skill, please identify that on the sign-up sheet.
SET-UP TEAM will need to be at St. Matthew's at 2:00 PM of Sunday, July 7, 2019.
TEAR-DOWN TEAM will be needed on Saturday, July13, 2019.