Church History
History of Our Church
St. Matthew's Episcopal Church was begun in 1964 when a group of Episcopalians in and near Randolph Air Force Base, Universal City, Texas, decided to start a church to serve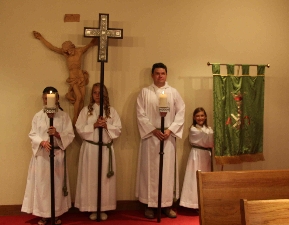 Universal City and the surrounding communities. The first worship service was held on January 17, 1965, in a storefront location in Schertz, Texas. The storefront was utilized for six years.
The Reverend Robert Creasy was assigned by Bishop Jones in 1966 to be the first full-time vicar of the new St. Matthew's Mission. He faithfully served the parish for 32 years, making his tenure one of the longest in the history of the Diocese of West Texas.
In 1968, the Diocese purchased land on Kitty Hawk Road in Universal City. Construction of the church began on June 17, 1970. The first worship services were held in the new sanctuary on January 31, 1971.
St. Matthew's became a financially self-supported parish in 1989. By 1994, the parish decided to begin work on a new parish hall because of expanding ministries. In early 1998, after suffering through a number of delays the parish completed and dedicated it in honor of the first rector and his wife.
Father Creasy retired in June 1998 and a Search Committee was formed to begin the process of calling a new priest. The Reverend Timothy Vellom was installed as rector of St. Matthew's on May 22, 1999. During his tenure the parish has seen growth in worship attendance, Sunday School, ministries, and involvement in outreach and evangelism. St. Matthew's continually strives to live by its Mission Statement: To be a strong community of faith rich in the Episcopal tradition serving Jesus Christ; welcoming the seeker; providing a caring Church family; effecting spiritual change; and reaching into the world with the love of Jesus.
History of St. Matthew's Episcopal Church prepared for the 50th anniversary: