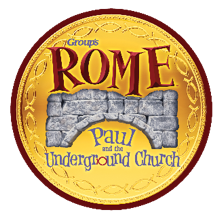 Registration Form
Parents, please sign up your children to participate by filling out a registration form on St. Matthew's website, or a paper form found in the Narthex. They will have a wonderful week learning about Paul and the Underground Church in Rome.
We need adult and teen volunteers in several capacities—please sign up to be a family leader, merchant, drama, music leader, and/or set-up/tear-down team.
Youth helpers, age 12 or older, please sign up to assist the family leaders and merchants—the young people will be put to work, but they will have fun and learn too. Young people who volunteer to help can use this week for community service hours—please annotate sign-up sheet.
There will be sign-up sheets for all positions in the church narthex.
FAMILY leaders must be available every morning all week.
Merchants can be a one-day position or the whole week. If you have a special skill, please identify that on the sign-up sheet.
drama ACTOrs—all week if possible.
Set-up team will need to be at St. Matthew's in the afternoon of Sunday, June 25
tear-down team will need to be there in the afternoon of Friday, June 30.
Please contact Liz Sampson at 386-5999 for more information.